---
Climbers Grown at Coucals
Wisteria floribunda
Cobaea scandens
Ipomoea horsfalliae
Tecomanthe hillii
'roaring Meg'
Mansoa alliacea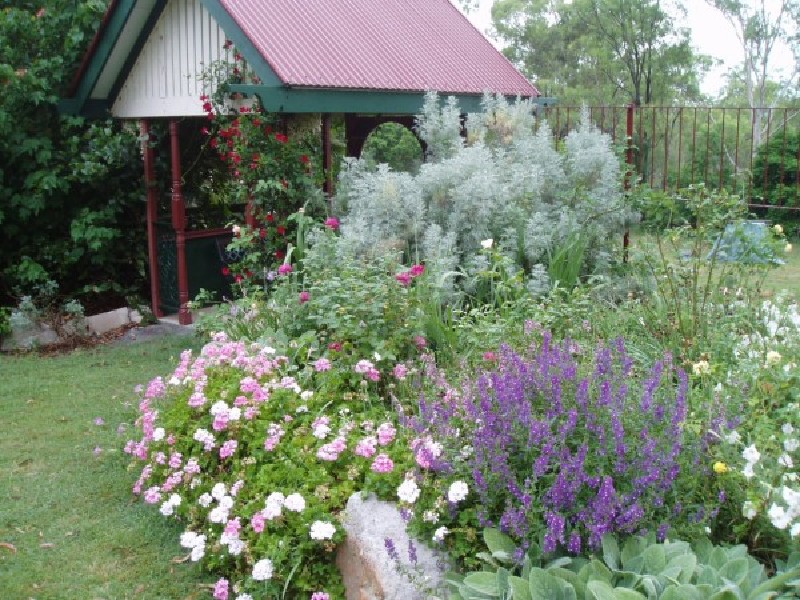 CLIMBERS
Wisteria sinensis
Quisqualis indica
Climbers Growing Hints
Climbers give height and drama to a garden.
The most important thing with climbers is that you need a suitable support. The stronger the climber the stronger the support needs to be. A support could be a fence, an arbor, a post, a sheet of mesh or for Wisteria, a purpose built structure is best. Always put the structure up first so that you do not damage the root system when planting.

Climbers are usually plants that grow in a situation with other plants as they use trees in nature to climb up to the light. Because of this they usually like their base or root system in shade so this should be considered when planting them. Mulching them is also beneficial.

Climbers certainly give impact to a garden with their height and often stunning flowers which may flower in large bunches like wisteria and mansoa alliaea. Some have striking colours as in the cerise bracts of Dalechampia and the orange flowers of Thunbergia mysorensis.

A lot of climbers are very drought tolerant and most take a while to establish so be patient. Some climbers like Bougainvillea and Wisteria need a lot of pruning whilst others need very little. It is important to prune after flowering has finished.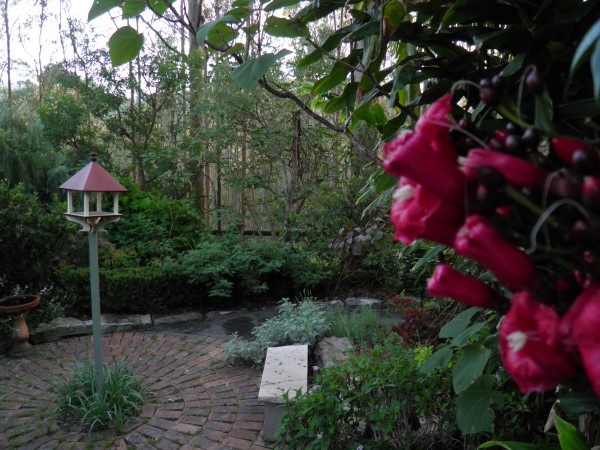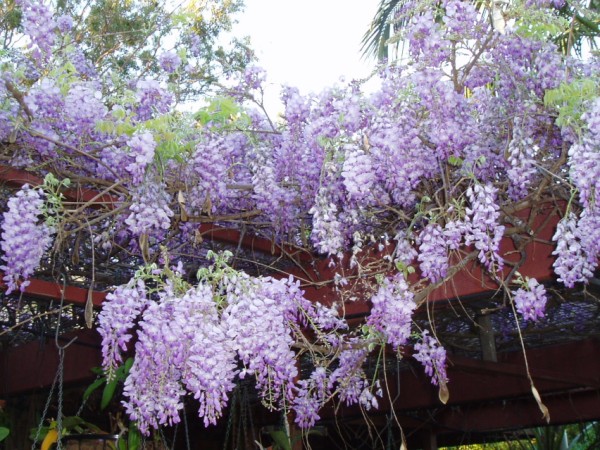 COMMON NAME
Climbing abutilon
Chocolate Vine
Allamanda
Herald's Trumpet
Bougainvillea
Chinese trumpet creeper
Climbing frangipani
Clerodendrum
Argentine Trumpet vine
Monastery Bells
Scarlet Comb
Handkerchief vine
Red trumpet vine
Waxflower
Moon flower
Cardinal Creeper
Sweet Willy
Jasmine
Mandevilla
Garlic Vine
Climbing snapdragon
Fruit salad plant
Nasturtium
Wonga Wonga vine
Sandpaper vine
Snail Creeper
Philodendron
Flame Vine
Quisqualis
Rangoon Creeper
Devil's Ivy
Natal ivy
Chalice Vine
Variegated Golden Chalice Vine
Madagascan Jasmine
Jade Vine
Frazer Island creeper Roaring Meg
Lady slipper vine
Star Jasmine
Japenese Wisteria
Chinese Wisteria

BOTANICAL NAME
Abutilon
Akebia quinata
Allamanda cathartica
Beaumontia grandiflora
Bougainvillea hybrids
Campsis grandiflora
Chonemorpha fragrans
Clerodendrum x speciosum
Clytsostoma callistegioides
Cobaea scandens
Combretum coccineum
Dalechampia roezliana
Distictis buccinatoria
Hoya sp
Ipomoea Alba
Ipomoea horsfalliae
Ipomoea quamoclit
Jasminum polyanthum
Mandevilla splendens
Mansoa alliacea
Maurandya barclayana
Monstera deliciosa
Nasturtium
Pandorea pandorama
Petrea volubilis
Phaseolus caracalla syn. Vigna caracalla
Philodendron sp
Pyrostegia venusta
Quisqualis mussaenda
Quisqualis indica
Scindapsus pictus
Senecio macroglossus
Solandra maxima
Solandra maxima 'Variegata'
Stephanotis floribunda
Strongylodon macrobotrys
Tecomanthe hillii
Thunbergia mysorensis
Trachelospermum jasminoides
Wisteria floribunda
Wisteria sinensis