---
A tawny frogmouth owl camouflaged in a Bauhinia tree

The slope in summer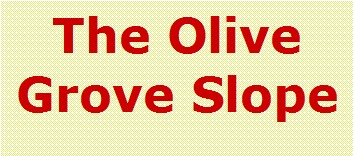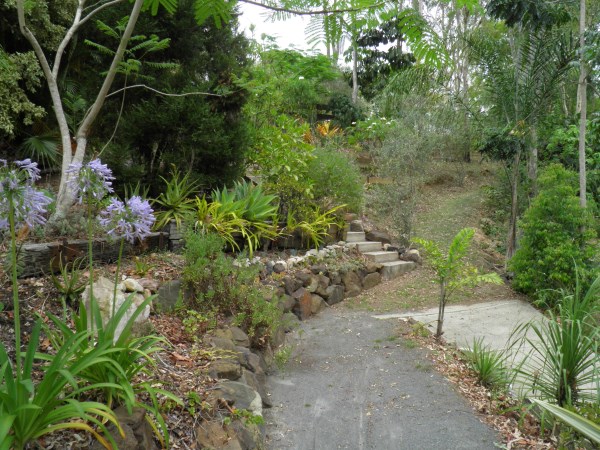 After I had created the gardens around the house I looked at the olive grove slope (approximately one acre) and it was like having a blank canvas. Not that a blank canvas was actually true as the slope did have thirty odd olive trees and a few other trees here and there but compared to the house gardens it certainly had a lot of space which my fingers were itching to fill.

Before we planted the olive trees in 2001, we had put in paths across the slope which took our ride on mower with attached trailer quite easily. The other great aspect of the slope was that it can be viewed from the west bank of the house so it was great to be able to look and imagine vistas (which I did quite often). Drought tolerant trees such as Jacarandas, Brachychitons, Grevilleas, Frangipanis, Crepe Myrtle, Dombeyas and Euphorbia Cotinifolia have been added to create more colour

The main problem was however that a sprinkler system could not be installed as the fall of the land is at least forty five degrees which meant that gravity took over as we had discovered when first planting the olive trees. This meant planting a few trees at a time, establish them by hand watering and then they were left to nature, which had not been very forthcoming with rain for seven years or so. This meant drought tolerant plants. And so my hunt began for dry garden plants.

Prior to putting in the olive trees a dam had been excavated at the lowest point, but unfortunately it did not hold water and the sides of the dam were even steeper than the rest of the slope. However when it did fill it did add a lovely dimension to the whole area and I began by adding clumps of bamboo around it.

To retain the soil and mulch I decided to use sleepers as these could be staked in with pickets cut into two. I was afraid that if I placed rocks, they would dislodge and tumble down the slope. I started placing sleepers across the slope about a meter above the paths. Having the paths made it easy for me to take soil and mulch above the sleepers and shovel the soil into place.

After good rain in February and March of 2010 my progress was exhilarated by the existing plants really taking off with the moisture soaking into the added soil and sugar cane mulch which was easy to spread.

We had planned a gazebo similar to the famous one at Nooroo (Mount Wilson NSW) at the top of the slope and in July 2010, Jim proudly completed it in resplendent white, which really stands out. It is beautifully set off by cast iron lace panels which we had re-painted also in white. This meant that I really had to make a lovely garden to complement it. Our son in law gave us an old fence and after widening the path to the 'Nooroo' gazebo we put in the fence which just has 3 posts and 4 rails that fit into the posts. It was amazing how this fence anchored the area and 'announced' the walk to the gazebo. I have planted a lovely dark red climbing rose on the fence and started planning the garden around it.

The winter of 2010 was a very dry one which enforced my thinking of dry plants. I was blown away by an aloe garden I had visited that year and immediately started researching and collecting aloes as well as agaves and yuccas.

This will be a slow and steady process, but an exciting one as Jim builds steps and helps put the sleepers in place. The steps are to put 'short cuts' between some of the paths so that I can water more easily. I water by hand just to establish newly planted areas and then they are on their own. The sleepers are invaluable for keeping soil and mulch in place and then of course the rain water doesn't run off quite as easily.

Visiting the Mediterranean area in 2011 gave us more ideas and in particular the Exotic garden which is situated on a very steep slope in Monte Carlo. This inspired us to create a succulent garden on a steep area of the slope with steps being used as a viewing platform. The work will be carried out over 2011 and 2012 with more steps and rocks planned to give access and retaining areas for the plants.


Because water is an essential ingredient to a garden, we are always looking for new ways of conserving and capturing rainwater run off. As well as roof area we utilize our drive and arena to capture run off. Currently we have 8 x 3000 gallon and 8 x 5000 gallon tanks from which we pump water to all the gardens around the house via a sprinkler system.

In 2014 we decided to re-do our dam that had never held water. We excavated the dam wall so that it is lower and wider and put in a road from the bush houses down to the wall to enable us to get 3 more tanks down to this site.
Jim revamped the existing water capture systems to take the water from the slope directly into the tanks instead of into the dam. This gave us an area to create more gardens around the bottom of the slope area.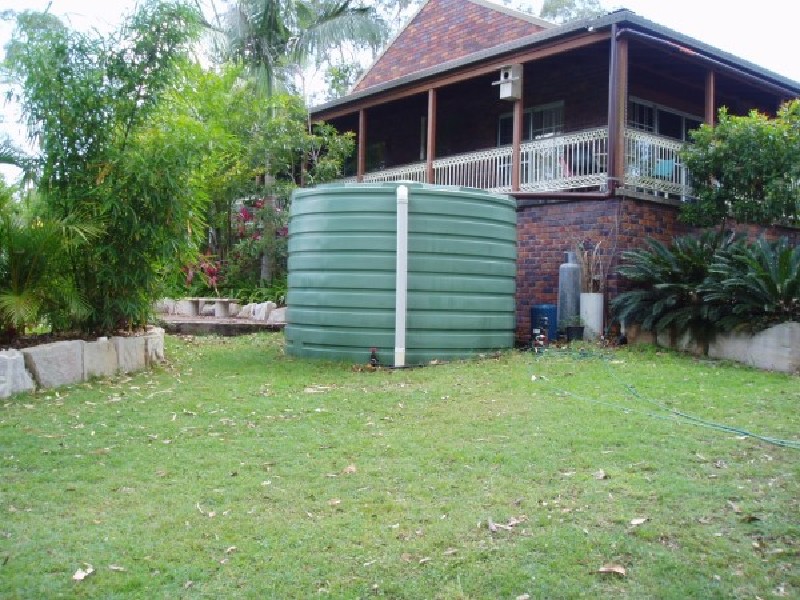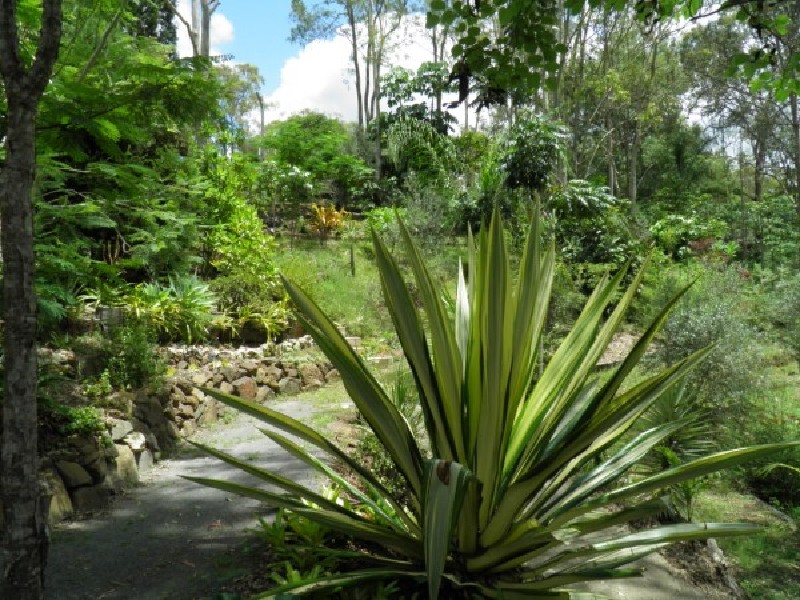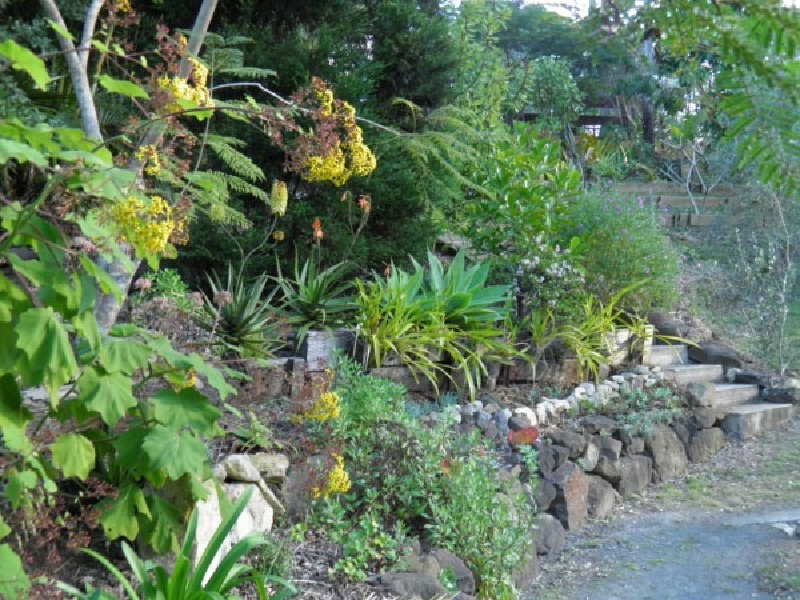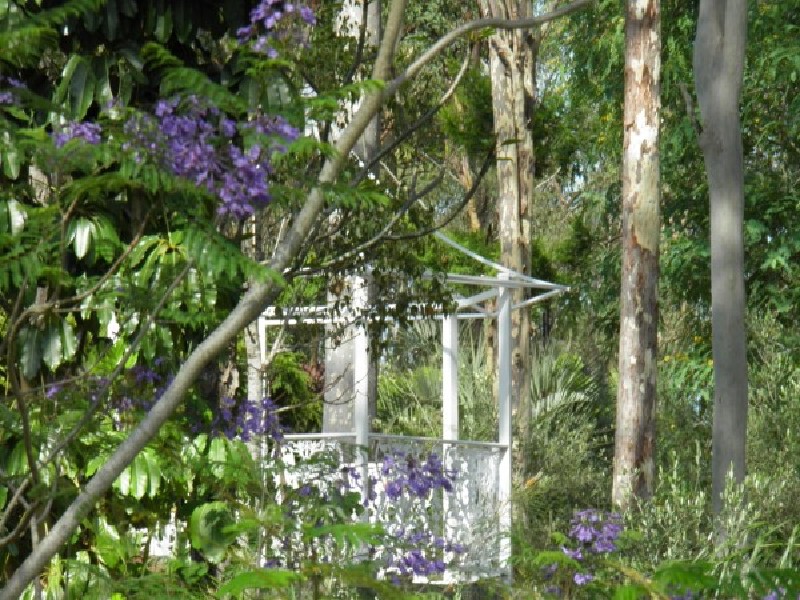 The lower entrance to the slope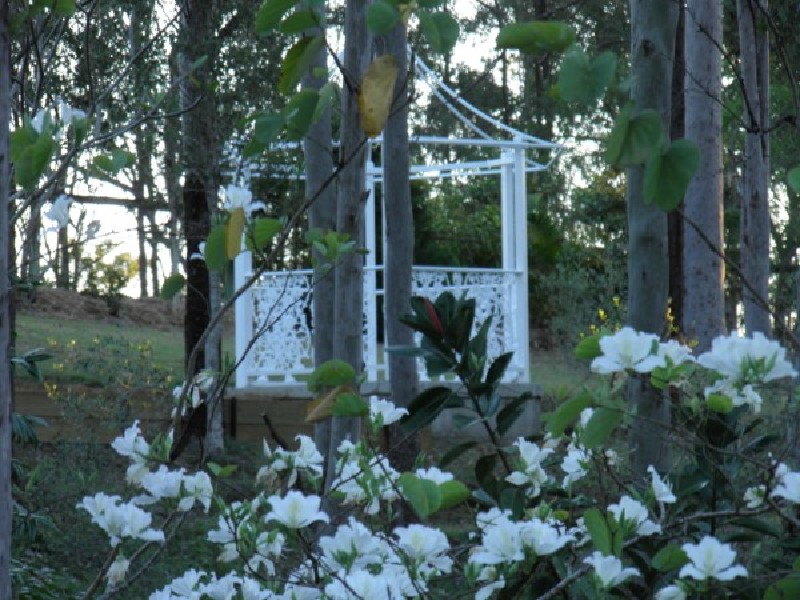 The Gazebo named Nooroo on the top of the olive grove slope